Art Nouveau Tarot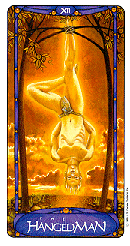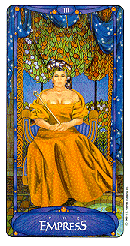 In the Art Nouveau Tarot, the artist Matt Myers takes traditional tarot symbols and presents them in the decorative art nouveau style. His images reflect the curved lines and stylized figures characteristic of this popular, turn-of-the-century artistic movement. Each suit in this deck tells a story concerning a family, and the numbered cards show the characters as figures in a stained glass window. This deck was begun in June 1984 and completed in April 1988. The original card images were painted in oil on illustration board. A self-portrait of the artist is included as an extra card. Myers has dedicated the Art Nouveau Tarot to the science fiction writer Ursula Le Guin who "showed him his beginning place." The Tarot Art Nouveau is another deck in this style.

Number of Cards
Size
Copyright
Order Code
Deck Price
78
22 major/56 minor
2 3/8" x 4 3/8"
1989
0-88079-375-9
$15.00 (US)

How to Order

Back Design: See right
Language of Card Titles: English
Style of Suit Cards (2-10): figures in various poses (except for Aces and 4 of Swords)
Also Included: instruction booklet, title card, artist self-portrait card
Major Arcana:
Fool, Magician, Priestess, Empress, Emperor, Priest,
Lovers, Chariot, Strength (Card 11), Hermit, Wheel, Justice (Card 8),
Hanged Man, Death, Temperance, Devil, Tower, Star, Moon,
Sun, Judgment, World
Suit Names: Staves (Wands), Cups, Swords, Coins (Pentacles)
Court Cards: King, Queen, Knight, Page
Links to Other Sites:
Wicce review
Taetia Zysshe review
SAMPLE CARD IMAGES: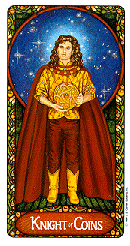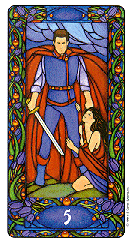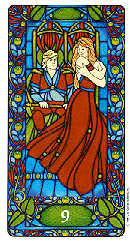 Text based on the instruction booklet, U. S. Games Catalog #49 and The Encyclopedia of Tarot: Volume 3 by Stuart Kaplan, pgs. 564, 570.
[ Main ]
[ Lessons ]
[ Cards ]
[ Spreads ]
[ Decks ]
[ Order ]
Copyright © 1995-2002 by Joan Bunning