Russian Gypsy Fortune Telling Cards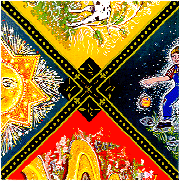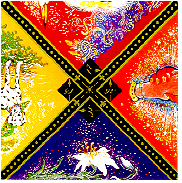 The Russian Gypsy Fortune Telling Cards are based on a set created for Svetlana Alexandrovna Touchkoff by her mother who was taught this art by an 80-year-old Russian woman after WWII. This beautiful deck is made up of 50 pictures of objects such as a road, dog or horseshoe. Each picture has been split in half with the halves scattered among the 25 cards of the set. This means each card has four different half-scenes. In readings, the cards are laid down in 5 rows of 5 cards, and the reader looks for ways to rotate cards next to each other to make matching halves. (See the example for the angel below). Completed objects are then interpreted according to their orientation: up, down, facing left or facing right. The set includes the book Russian Gypsy Fortune Telling Cards with detailed instructions and interpretations (182 pages).

Number of Cards
Size
Copyright
Order Code
Deck/Book
Boxed Set
Price
25
4" x 4"
1992
0-06-250876-8
$35.00 (US)

How to Order

Back Design: See right -->
Language of Card Titles: No Titles
Also Included: instruction book
Pictures When Matched:
Cavalier, Clover, Ship, House, Firewood, Apple,
Snake, Hearse, Bouquet, Scythe, Branches,
Birds, Boy, Fox, Bear, Stars, Heron, Dog,
Castle, Forest, Mountains, Road, Mice, Heart,
Ring, Moon, Fish, Owl, Anchor, Handshake, Angel,
Lady, Horse, Knot, Cat, Scales, Crayfish, Fire,
Pig, Bridge, Demons, Rooster, Dagger, Bread
Suit Names: no suits
Court Cards: no court cards
Links to Other Sites:
Wicce review
SAMPLE CARD IMAGES:

Text based on instruction book.

[ Main ]
[ Lessons ]
[ Cards ]
[ Spreads ]
[ Decks ]
[ Order ]
Copyright © 1995-2002 by Joan Bunning