Sibilla Oracle Cards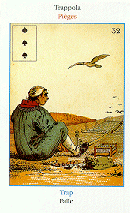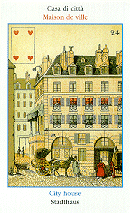 Sibilla Oracle cards were a popular tool for divination in France in the 18th and 19th centuries. They are a regular deck of playing cards with the usual four suits, but they also show scenes from the daily life of the time. These and a short descriptive phrase illustrate each card's meaning. In this deck the playing card symbol is shown in the upper left corner. The meaning is given in four languages - Italian and French at the top and English and German at the bottom. Each of the 52 cards is numbered in the upper right corner. The Sibilla Oracle cards often have precise meanings - such as "Wedding" or "Trip to the Country" - which make them fun to explore for guidance in everyday affairs. The small 6-page instruction sheet describes how to use the cards.

Number of Cards
Size
Copyright
Order Code
Deck Price
52
2 3/8" x 3 3/4"
2000
0-73870-042-8
$9.95 (US)

How to Order

Back Design: See right
Language of Card Titles: English, Italian, French, German
Style of Cards: Regular Playing Card + drawing
Also Included: instruction pamphlet, 3 instruction cards in Italian
Card Names:
Love, Sincere Friend, Absence, Waiting, A Lot of Money,
Sweet Card, Contrariety/Displeasure, Infantilism, Chattering, Anger,
Hope, Enemy, Impediment, Flatterer, Faithfulness/Affection,
Lawyer, Inconstancy, Gamblers, Consultant (man), Consultant (woman),
Fright, Angry Woman, Soldier, City House, Country House,
Wedding, Weakness, Thought, Presents, Loss of Money,
Protector, Trap, Trip to the Country, Pleasant/Pastime, Quarrel,
Delay, Pensioner, Reconciliation, Important Revelation, Success,
Surprise, Tenderness, Blond Woman, Widow, Some Money,
Letter, Dark-Haired Young Man, Dark-Haired Woman, Thief, Journey,
Visit, Victory
Links to Other Sites:

SAMPLE CARD IMAGES: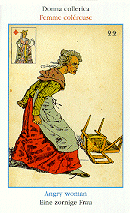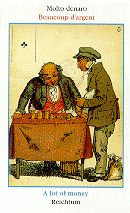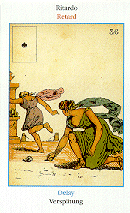 Text based on instruction booklet and Llewellyn Spring/Summer Catalog 2001.

[ Order ]
[ Main ]
[ Lessons ]
[ Cards ]
Copyright © 1995-2002 by Joan Bunning